Relay Mode
From PocketWizard Wiki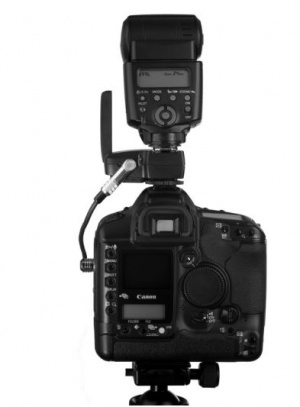 You can trigger flashes in sync with your remote camera. This is called Relay Mode. Here's how it works:
Press TEST on a PocketWizard that you are holding in your hands.
The FlexTT5 connected to your remote camera receives the signal and triggers your camera.
The FlexTT5 switches to transmit mode and waits for the camera to provide a sync pulse.
The FlexTT5 triggers the flash in its shoe in sync with other remote PocketWizard radios.
The Channel used for relay transmitting is ONE CHANNEL HIGHER than the taught or default Channel, unless you set the Channels using the PocketWizard Utility. Be careful not to teach or set your remote flashes the same Channel as your remote camera or proper synchronization will not occur.
Example: If you taught the camera-connected FlexTT5 unit Standard Channel 3 then relay transmit occurs on both ControlTL and Standard Channel 4. Remember, set the transmitter in your hand and the receiving Channel on the remote FlexTT5 connected to your remote camera to the same Channel. Set the transmitting Channel in that camera's FlexTT5 to the Channel you wish to use for your remote flashes.