Misc Tab
From PocketWizard Wiki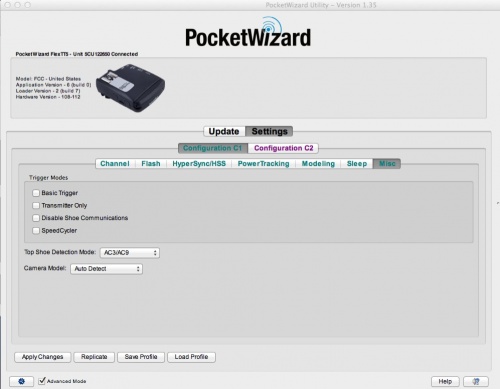 Basic Trigger
Allows the MiniTT1 or FlexTT5 to operate as a basic PocketWizard radio slave on any camera it will fit, including cameras other than the Canon or Nikon models the radio is designed for. This mode only uses the center hot shoe contact for sync input and output. It does not use any of the radio's communication pins, and as such disables all TTL, HSS/FP-Sync and power-controlling operations of the radio.
Special Notes:
This setting does not need to match across all radios in use - it needs only be used when connected to a non-compatible camera or flash. For example, transmitting MiniTT1/FlexTT5 transmitting on both ControlTL and Standard Channels can be used to trigger a remote FlexTT5 in Basic Trigger Mode (receiving on a Standard Channel).
Due to the manufacturer-specific layout of the pins on the bottom shoe, the MiniTT1 and FlexTT5 are not guaranteed to slide onto every camera's hot shoe. Do not force the units onto your camera. Slide gently.
In Basic Trigger Mode, you get basic remote triggering on PocketWizard Standard Channels. This works with all PocketWizard radios including the PlusX, Plus III, Plus II, MultiMAX, and devices with PocketWizard radios built-in.
HyperSync, High Speed Sync (FP Flash), or ControlTL functionality are not available on any channel when using this mode on a transmitting radio. A remote radio set to Basic Trigger Mode can still be used for HyperSync operation, when Standard Channels are configured on the HyperSync/HSS Tab of the transmitting radio.
This mode will reduce battery life with the MiniTT1. Normally the MiniTT1 sleeps when the camera sleeps based on data it receives from the camera on the E-TTL / i-TTL communication pins. Since those pins are deactivated in this mode, the MiniTT1 never sleeps.
The fastest usable shutter speed for flash (X-Sync) may be affected. This mode takes ~900 microseconds (1/1111 of a second) from the time X-sync is received until the remote flash begins generating light (radio propagation delay). Some cameras and flash combinations will tolerate this delay and achieve X-sync normally. Some will not. On those cameras that will not, you may need to reduce your shutter speed to something slower than X-sync to eliminate black lines in your images. Shortening your flash duration may also help.
A hot shoe flash or Speedlite in the top shoe of a radio in this mode will only trigger in manual mode.
Transmitter Only (FlexTT5 Only):
Allows the FlexTT5 to be used as a Transmitter only, just like the MiniTT1. This mode allows a photographer to work in the same area as other photographers, and share remote flashes, without the flash on top of the FlexTT5 being triggered by the other photographers. When this mode is engaged, the FlexTT5 will not respond to any triggers from another MiniTT1 or FlexTT5 acting as a Transmitter.
Disable Shoe Communications (FlexTT5 Only):
Check this box to turn off the bottom shoe on a FlexTT5. This is useful for remote cameras where you want to deploy the FlexTT5 radio in the shoe, but do not want the FlexTT5 to act as an Auto-Relay transmitter.
SpeedCycler:
This mode is designed to rapidly cycle through multiple flash units fired individually in sequence. This allows you to fire a camera in sync with flashes faster than a single flash can recycle. It can also be used for triggering remote cameras sequentially. SpeedCycler is engaged on a transmitting MiniTT1 or FlexTT5 via this checkbox. SpeedCycler mode requires an AC3 ZoneController in the top shoe of the on-camera PocketWizard radio. Zones A, B, and C will be triggered sequentially and individual zones can be disabled by setting the AC3's Zone Switch to the off position. Both TTL and manual flash are supported. Setting flash power manually will trigger faster. Receiving MultiMAXes or Plus IIIs can be used instead of FlexTT5s provided a Standard Channel between 17 and 32 is in use. Make sure to set the Standard Transmit Channel on your transmitting ControlTL radio to match the receiving MultiMAX's or Plus III's. The MultiMAX's and Plus III's A, B, and C Zones correspond to the AC3's Zones.

Read more about this feature on our SpeedCycler page.
Top Shoe Detection Mode (Canon Only):
Set this control to AC3/AC9 if an AC3 ZoneController or AC9 AlienBees Adapter will be connected to the top shoe of this radio. Set it to Nissin Flash to use this radio with a Nissin Di866 or Di622 for Canon.
Read more about Nissin Flash compatibility here.
Camera Model (Canon Only):
Your radio always uses the first trigger of a session as a calibration shot. Some cameras have special considerations that can be accounted for by selecting the Camera Model via this setting. For optimal performance, we recommend selecting your specific camera model. This setting only affects radios configured to transmit when connected to a compatible camera.
Ranger RX Head Selection
(PowerST4) Only
Use this setting to select the flash head in use with your Ranger RX series pack.
Digital 1200/2400RX Head Selection
(PowerST4) Only
Use this setting to select the flash head in use with your Digital RX series pack.
Flash Model
(PowerST4) Only
Use this setting to determine what kind of Elinchrom monobloc or flash pack you are using with your PowerST4.