Manual Flash
From PocketWizard Wiki
A transmitting MiniTT1, FlexTT5, or FlexTT6 can trigger any receiving PocketWizard, including flashes with built-in PocketWizards. They can transmit on any of the 32 PocketWizard Standard Channels and a receiving FlexTT5 can be used with MultiMAX zones. You can even trigger E-TTL and manual flashes together.
Remote Manual Flash Control from Camera Position
You can use a 580EX II, SB-700, SB-800, SB-900, SU-800, or AC3 ZoneController as a master unit attached to the PocketWizard on your camera to control manual power levels of compatible flashes connected to ControlTL receivers. The on-camera PocketWizard will communicate with the device in its top shoe and transmit power level changes to remote ControlTL receivers automatically.
Note that when using an on-camera Master unit to control remote power levels, leave remote speedlights in their "TTL" mode. As ControlTL radios use the flash's TTL systems to communicate with Speedlights - even when controlling the power manually from camera position - setting the flash to Manual as described in the sections below will disable power controlling ability from your camera.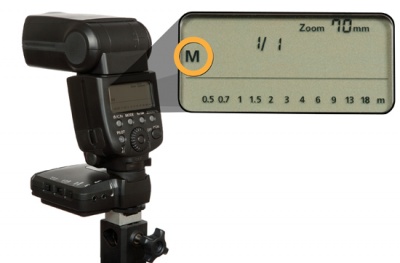 Triggering Hot Shoe Flashes Manually
Slide a Speedlite or other manual flash into the top shoe of a FlexTT5 for manual triggering without cords. You can also use a manual flash in the top shoe of an on-camera MiniTT1 or FlexTT5. No configuration of the radio is necessary.
Triggering Studio Strobes
You can use a receiving FlexTT5 to trigger studio strobes. Use our Cable Finder to find the right cable for lots of different strobes.

If you're using a PocketWizard Plus, Plus II, MultiMAX, or Sekonic Meteras a transmitter, be sure to set the FlexTT5 to receive on a Standard Channel via Basic Trigger Mode. This can be set in the PocketWizard Utility, under the Misc Tab while shooting on-location via Learn Mode. See the tutorial on Learn Mode here.

Note: Do not connect a flash to the camera port (P1) on a FlexTT5 or FlexTT6. You could damage your radio. This port is for triggering Canon motor drives only and isn't designed for the trigger voltages used by some flashes.