Update Tab
From PocketWizard Wiki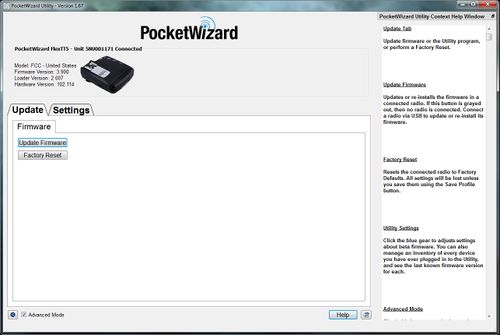 Update Firmware Button
The Update Firmware button will update or reinstall the firmware in the radio that is currently connected to the USB port of your computer.
Connect the radio to the computers USB port.
Wait for the main screen to update with the units information. NOTE: If the Update Firmware button is grayed out, no firmware has yet been downloaded for the connected radio. Close and re-run the PocketWizard Utility with your computer connected to the internet.
Click the Update Firmware button.
A dialog box will appear confirming the update firmware process has been selected. Click YES or OK to proceed.
The next dialog box will indicate what firmware release is going to be installed in the unit. Clicking YES will start the install. Clicking NO will cancel the process.
Click YES. NOTE: DO NOT DISCONECT OR TURN OFF THE UNIT FROM YOUR COMPUTER WHILE THE UNIT IS UPDATING!
The progress bars will show the status of the installation.
For ControlTL radios like the MiniTT1/FlexTT5/FlexTT6, the radios will be reset and previous settings may or may not be able to be reloaded. Regardless, we always recommend a Reset B
Factory Reset
You can perform a "Factory Reset" from within the PocketWizard Utility for your ControlTL radio. In addition, when you update your radios via the Utility, a factory reset will be performed automatically. Your previous settings will be saved, and when possible, you will be able to re-load them after the firmware update and factory reset. A large jump in firmware versions or a specific change in the firmware may make it impossible to re-load, so be sure to write down any custom settings for Configuration 1 or Configuration 2 before you reset your radios so you can re-apply them after the upgrade.
Click "Factory Reset"
A dialog box that says "Are you sure you want to reset the unit to factory defaults?" will appear. Click "Yes."
The PocketWizard Utility may flicker, and then will default to the Channel Tab.
Your radio has now been successfully reset. To see the Factory Default Settings, see the Default Settings section of the Factory Reset page.