PowerST4
From PocketWizard Wiki
Receiver with ControlTL for Elinchrom RX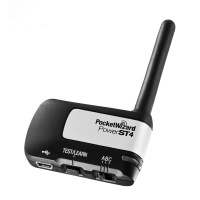 The PowerST4 Receiver enables remote power control of Elinchrom RX flashes using PocketWizard ControlTL technology. With a MiniTT1 Transmitter or FlexTT5 Transceiver on your camera and a PowerST4 plugged into your Elinchrom RX flash, you can now adjust the flash power settings directly from the camera. Add the AC3 ZoneController and you can control three different zones of lights in 1/3-stop increments with up to a six-stop range. Utilize PocketWizard's unique features such as HyperSync and Optimized Rear Curtain Sync for maximum control of your lighting.
Using your PowerST4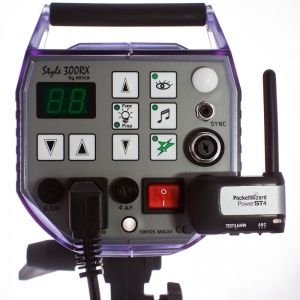 1. Connect the PowerST4 to your RX flash pack via the remote port, then power on the flash.
2. Select Zone A, B, or C with the Zone Switch on your PowerST4. Default = A
3. Set up your PocketWizard transmitter and take pictures normally.

Make sure all your radios are set to the same PocketWizard channel. See the Learn Mode and PocketWizard Utility sections for more information on channels. Default = ControlTL 1
The Status LED blinks Green every few seconds to indicate normal operation. It will blink Red in sync with a trigger.
Momentarily pressing TEST/LEARN will test trigger the flash. See the Learn Mode and Reset sections for more information on those functions.

NOTE: The PowerST4 overrides settings you make directly on your flash. If you would like to change the beeper, modeling light, or optical slave mode on your flash, just set those features on your flash before you turn on your camera's transmitter. You can also adjust these settings from your transmitter via the PocketWizard Utility. See that section for more information.

If you would like the flash to simply trigger at the output power you set, and not accept power changes from the radio, follow these steps: Make sure to allow a few seconds between each step!
1. Turn the flash on and change the power level
2. Then press TEST on the PowerST4.
3. Wait a few seconds for 3 amber blinks from the PowerST4's LED.
To allow the PowerST4 to control the flash features again, turn the flash OFF and back ON.

Note: When receiving on Standard Channels, the PowerST4 will be unable to do any form of PowerTracking, or remote Manual Power Control. You must be using a ControlTL radio in ControlTL radio mode for the Elinchrom flash to be able to engage in any form of ControlTL feature.
---
Having trouble with your PowerST4? Check out our PowerST4 FAQ page!

PocketWizard's newest firmware platform taps into the camera's digital communications to enable an entirely new level of remote flash capability through our proven radio system. ControlTL allows remote TTL systems as well as Manual Power Control. ControlTL firmware is configurable and upgradeable for "future-proof" continuous improvement.
Manual Power Control

Adjust the manual power settings of your remote Elinchrom flash directly from a AC3 ZoneController, or master flash mounted on your on-camera MiniTT1 or FlexTT5. You can independently control the power output of up to three remote groups of lights (you can have as many lights in each group as you want) from full power down to the lowest setting through the user interface on the back of the master flash or with the dials of the AC3 ZoneController. Now you can work with total control with your remote lights, without leaving your shooting position.

Our patent pending HyperSync® technology allows photographers to achieve faster X-sync speeds with full power flash. That extra speed can be used to freeze action or cut ambient light - both of which can produce results never possible before. HyperSync works automatically with the PowerST4. All you need is a MiniTT1 or FlexTT5 on camera to gain the benefits of HyperSync. While performance varies by the camera and flash equipment being used, HyperSync will get the maximum possible out of any configuration.

When working with certain manual flashes, you can change any of your settings on your camera and the system adjusts for those settings. Change your camera's exposure compensation to adjust the flash output, or make adjustments in aperture or ISO and the system balances your flash for proper exposure.
If you have a ControlTL transmitter like the MiniTT1 or FlexTT5 then you can control your flash's output level remotely. Add the AC3 ZoneController for even more control.
Read the PowerTracking section for more information on using the PowerST4 when no AC3 is present, or when using an AC3 in Auto Mode.
In AC3 Manual Mode, the AC3 Power Dial sets the flash power output as shown in the table below:
Elinchrom PowerST4 Manual Power Output Settings
AC3 Power Dial
in Manual
300RX
600RX
RangerRX/
1200RX
2400RX
+3
5.5
6.5
7.5
8.5
+2.7
5.1
6.1
7.1
8.1
+2.3
4.8
5.8
6.8
7.8
+2
3.5
4.5
6.5
6.5
+1.7
4.1
5.1
6.1
7.1
+1.3
3.8
4.8
5.8
6.8
+1
3.5
4.5
5.5
6.5
+0.7
3.1
4.1
5.1
6.1
+0.3
2.8
3.8
4.8
5.8
0
2.5
3.5
4.5
5.5
-0.3
2.1
3.1
4.1
5.1
-0.7
1.8
2.8
3.8
4.8
-1
1.5
2.5
3.5
4.5
-1.3
1.1
2.1
3.1
4.1
-1.7
0.8
1.8
2.8
3.8
-2
0.5
1.5
2.5
3.5
-2.3
0.5
1.5
2.1 / 2.5*
3.5
-2.7
0.5
1.5
1.8/ 2.5*
3.5
-3
0.5
1.5
1.5 / 2.5*
3.5
The numbers in the table are within +/- 0.1 stops.

Use the PocketWizard Utility software with the on-board USB port to program the PowerST4 to any PocketWizard channel and zone as well as many other custom settings. ControlTL radios can be upgraded whenever updates and feature enhancements are available.
Compatibility:
PowerST4 Series Compatiblity
Style
Digital
Ranger *
300RX
1200RX
Ranger RX
600RX
2400RX
Ranger RX Speed
1200RX
Ranger RX Speed A/s
When using a Ranger RX or Digital RX series pack, make sure to set the flash head in use in the PocketWizard Utility, under the Misc Tab for optimal HyperSync performance.

Note: The PowerST4 is not compatible with the Ranger RX Quadra. Use a Plus series radio, MultiMAX, or the P2 port of a FlexTT5 as a receiving radio for that pack.
Important Details
In order to connect to Ranger RX series packs, the PowerST4 requires an Elinchrom female 5-pin to male 7-pin Ranger RX Adapter, (Elinchrom Part # EL 19374). The PowerST4 will connect directly to the 5-pin RX port of Style RX and Digital RX series packs/heads.

Elinchrom has discontinued these cables and they are becoming increasingly difficult to find. Michael Bass offers a solution.
Elinchrom RX Cables & Part Numbers
Elinchrom Part Number
Length
For Use With
Description
EL 19374
Adapter
Ranger RX
Female 5-pin to Male 7-pin Elinchrom Adapter
EL 11110
0.66ft (7.9 inches) / 0.2m
Ranger RX
Female 5-pin to Male 7-pin Elinchrom Cable
EL 11106
3.9ft / 1.2m
Ranger RX
Female 5-pin to Male 7-pin Elinchrom Cable
EL 11107
7.9ft / 2.4m
Ranger RX
Female 5-pin to Male 7-pin Elinchrom Cable
EL 11108
15.7ft / 4.8m
Ranger RX
Female 5-pin to Male 7-pin Elinchrom Cable
EL 11109
31.5ft / 9.6m
Ranger RX
Female 5-pin to Male 7-pin Elinchrom Cable
EL 11100
3.5ft / 1.2m
Style RX, Digital RX
Female 5-pin to Male 5-pin Elinchrom Cable
EL 11101
7.9ft / 2.4m
Style RX, Digital RX
Female 5-pin to Male 5-pin Elinchrom Cable
EL 11102
14ft / 4.8m
Style RX, Digital RX
Female 5-pin to Male 5-pin Elinchrom Cable
EL 11103
28ft / 9.6m
Style RX, Digital RX
Female 5-pin to Male 5-pin Elinchrom Cable
EL 11104
57.5ft / 19.2m
Style RX, Digital RX
Female 5-pin to Male 5-pin Elinchrom Cable
If you own the Elinchrom EL 19342 Hand Remote Set then you can use its cable with your PowerST4.
The following Elinchrom cables are not compatible with the PowerST4: EL 11085, EL 11086, EL 11087. Those cables are for older analog Elinchrom Style S packs which are not compatible with the PowerST4.
If you wish to make your own extension cables, these links may help. These are suggestions for connectors only. You'll need to source your own wire. The 5-pin connector on the PowerST4 seems to be a standard 5-pin 240 degree DIN (unfortunately not the more common 180 degree like used in MIDI cables). You might find connectors from places like SwitchCraft:
5-pin Female might be = 13EL3FX
5-pin Male might be = 12CL5MX
7-pin Male connector is probably a DIN 270 degree = 15CL7MX
Specifications:
Frequency
340.00 - 354.00 US FCC/IC
433.42 - 434.42 MHz - CE
Channels
52 Channels over 26 Frequencies - US FCC/IC
35 Channels over 5 Frequencies - CE
Antenna
2.7" (6.9 cm) rubberized
Mounting
Five-pin remote socket
Zone Select Switch
A-B-C
Status Indicator
LED: Green, Amber, Red Status indications
USB
USB Compliant 2.0, Mini-B Connector, 5VDC regulated, 100mA, Pin 1 Positive, Pin 4 Ground
Operating Temperature
Above -15° C (5° F) and below 50° C (120° F)
Storage Temperature
Above -30° C (22° F) and below 85° C (185° F)
Construction
high impact plastic, rubberized antenna, RoHS Compliant
Power
Receives power from attached flash
Dimensions
3.6" (9.2cm) long x 2.2" (5.5 cm) wide x 1" (2.5 cm) tall
Weight
.77 ounces (21.83 grams)
Requirements
Must be used in conjunction with a MiniTT1 or FlexTT5 on camera for power control capability.
May be paired with any PocketWizard transmitter or transceiver for simple triggering.