Panasonic
From PocketWizard Wiki
Note: This page is currently under construction and information is being added daily. If you cannot find the information you are looking for, please contact our technical support team here.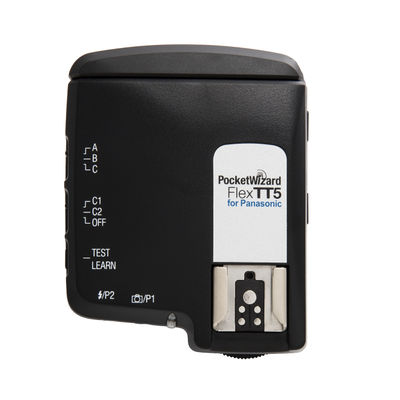 Read Me
Congratulations on your purchase of the PocketWizard FlexTT5® Wireless Photo Control System for Panasonic! You can use the FlexTT5 Transceiver to control single or multiple off-camera electronic or intelligent TTL flashes. The PocketWizard ControlTL® System takes the complex TTL data being sent through the camera's hot shoe and digitally interprets and transmits it as a reliable radio signal. You can now place TTL or manual flashes anywhere to illuminate the scene: Around corners, out-of-sight and in bright sunlight. The FlexTT5 is compatible with any PocketWizard radio for triggering a manual flash.
PocketWizard Utility
Your new PocketWizard radio runs on very sophisticated software we call ControlTL™ which can be configured to your specific needs using the PocketWizard Utility. You can download the PocketWizard Utility on our Getting Started page.
Product Registration
ControlTL software is designed to be "Future Proof" and will be upgraded from time to time. Please register your product online to be notified when updates are available. Visit our Registration page.
Getting Started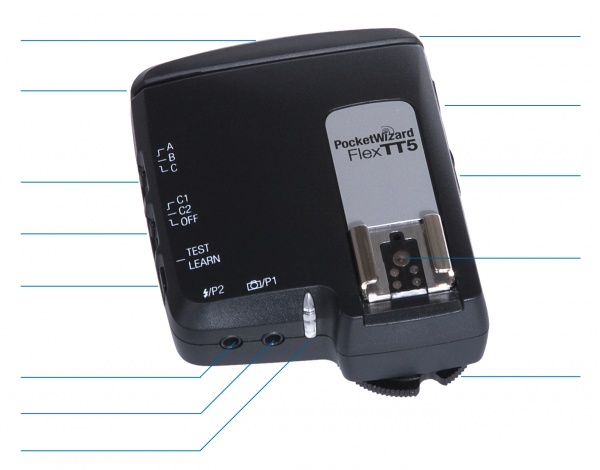 USB Connector (behind antenna)
Adjustable antenna
Zone Selector
Configuration/Channel 1
Configuration/Channel 2
Power Off
TEST Button
Remote studio or other
flash triggering port
Remote Camera Triggering Port
Lanyard Loop
(2AA [IEC:LR6])
1/4-20 mount
(on bottom)
Panasonic
Hot Shoe with
Pass Through
Locking Ring
(on bottom foot)
All equipment should be turned OFF when connecting.
Power on the FlexTT5 and then the camera and/or speedlight.
If operation is erratic, check batteries first. We recommend using high-capacity rechargeable batteries in your Speedlight(s).
Use the latest firmware for your camera and review all camera and flash manuals.
You need a FlexTT5 for each remote Speedlight.
Set all radios to the same channel.
Take your first shot at 1/125 so the system can properly calibrate timing. (First shot will not be correctly exposed.)
For most basic functions, operation is identical Panasonic's wireless system.
Camera Settings
Wireless
In Wireless mode you are able to control your remote Panasonic speedlights power levels by using the in-camera menus with three zones of power control. You have the option to shoot with either FP Mode On or FP Mode Off.
FP On: FP Mode allows you to shoot in TTL and Manual mode at shutter speeds above your cameras x-sync all the way up to 1/8000th with remote compatible speedlights.
FP Off: With FP Mode Off you can shoot in TTL and Manual mode at shutter speeds at or below your cameras x-sync.
Non-Wireless
In Non-Wireless mode, you can remotely trigger your speedlights above your cameras x-sync but all remote speedlights will be on one zone. In this mode, you are also able to use rear curtain sync with speedlights and strobes on and off camera.
Power Control
All power adjustments can be done in Wireless Setup located in the Flash Menu.
When setting your power level always make sure to press the SET/MENU button to make sure the power level is properly set.
Compatibility
Current Firmware
The current firmware for the FlexTT5 for Panasonic is version 1.100.
The FlexTT5's can be updated to this firmware version using the PocketWizard Utility.
Note: At this moment the current PocketWizard Utility (version 1.63) is not compatible with our FlexTT5 for Panasonic. We will be releasing a new version of the Utility prior to the first firmware release for this product.
Camera Compatiblity
Currently, the FlexTT5 for Panasonic is only compatible with the Lumix GH4. We hope to add more cameras to the compatibility list with future firmware updates.
Speedlight Compatibility
The following speedlights are compatible with the FlexTT5 for Panasonic:
DMW-FL360L, DMW-FL580L, Olympus FL-600R
Specifications
Trigger Delay: 0 seconds – "faster than a wire" when using compatible Panasonic cameras.
Batteries:
2 x AA (IEC:LR6) (30 hours)
Approximately 30 hours of camera awake time, can vary with camera and
Speedlight models.
Low-temperature operation and used batteries will have reduced battery life.
Always use fresh batteries when working in the cold.
Operating Temperature: Above -15º C (5º F) and below 50º C (120º F)
Storage Temperature (with batteries): Above -30º C (-22º F) and below 85º C (185º F)
Frequency
| | |
| --- | --- |
| US FCC/IC | 340.00 - 354.00 MHz |
| CE | 433.42 - 434.42 MHz |
IMPORTANT: US FCC/Canada frequency radios are NOT compatible with CE frequency radios and vice versa. For more information on frequency, please visit our Frequency page.
Warranty
Your PocketWizard FlexTT5 for Panasonic is covered under a two-year limited manufacturer's warranty. For warranty details please visit the Warranty page on our website.